Traveling during the holidays can be tough. The crowded airports, adverse weather conditions, and long delays can test your patience. There are ways to reduce the dread of travel and keep the "holiday joy" alive.
Maintaining a positive outlook is key to alleviating the stress that comes with holiday travel. There's a good chance your travels may not go exactly as planned. A contingency plan can help you overcome the frustration of last-minute changes, cancellations, or delays and move you toward a resolution. Here are some helpful hints on how to enjoy your holiday travel.
Planning your Flights:
When booking airfare, nonstop flights are your best option. Connecting flights may be cheaper, but you run the risk of weather-related delays that may cause you to miss a connection. If you have to fly multiple flight legs, avoid tight connections in case of a delay and connect through an airport in a warmer climate. This will lower the chances of your flight being affected by a winter storm.
Be sure to reserve your seats in advance, especially if traveling with friends and family. Some airlines charge for this feature, but it may be worth the expense if you want to sit together.
Peak Travel Days and Times:
The peak days for travel at Thanksgiving are the Wednesday before and the Sunday after. For Christmas and the New Year, it is December 22 through the 24 and December 29 and January 2. Traveling on the holiday itself is the best day to travel, but for most of us, that defeats the purpose. If you can fly out earlier or stay later, that is optimum. You will reduce your costs and avoid long lines and delays.
Early morning or late night flights usually results in fewer people at the airport. Flight statistics show early morning flights have a better on-time performance. If your flight is canceled, you have a better chance of getting on a later flight that same day. Canceled flights later in the day may result in an overnight stay at the airport or the nearest hotel.
Airport Delays and Getting through Security:
Plan for Delays:
Check the status of your flight, including connecting flights, before departing for the airport. If a flight delay will affect your connection, contact the airline right away to re-book that leg of the flight.
Keep in mind that even if your departing flight is listed as delayed, it is recommended that you still arrive at the airport in advance of your original flight time. If the flight ends up departing on time, you would be considered a no-show if you were not at the departure gate for boarding.
Plan to arrive at the airport earlier than normal to accommodate the long lines. Do your flight check-in and print your boarding passes before going to the airport. This can be done 24 hours prior to your departure.
If your flight is significantly delayed, and you are not a member of the airline's airport club, think about getting a 1-day airline pass (costs about $50). You can relax in the airport lounge, and snacks and Wi-Fi are usually free. Some airlines include free drinks as well.
If traveling with children, pack movies, snacks, games, books, and toys so they can entertain themselves during long delays. A pillow and blanket may come in handy as well.
Input the number of your hotel, car rental agency, and airline on your cell phone. If your flight is canceled or delayed, call the airline directly for assistance on re-booking your flight, rather than waiting in line at the airport check-in counter. Notify your hotel and car rental agency of your delay as well.
Make sure your cell phone and laptop are fully charged the night before your departure. Charging stations are available at most airports but may be unavailable during busy holiday travel.
Be sure to pack your medications and other necessary toiletries in your carry-on bag. If there is a flight delay, you want to have access to these items.
If you enjoy a relaxing drink but don't want to spend a fortune at the airport lounge (drinks can run as high as $15 each), you can pack your own. Whineware offers a TSA-Kit™ designed specifically for transporting your own alcohol (they call it their Travel Sufficient Alcohol kit). It consists of five glass bottles (2 or 3.38 oz.) in a quart size bag with a funnel and towel. You can serve yourself at the airport, but airline regulations prohibit passengers from serving their own drinks on the plane.
Remember to pack the rest of your liquids in your checked bag, since you cannot have two bags of liquids.
Security Checkpoints: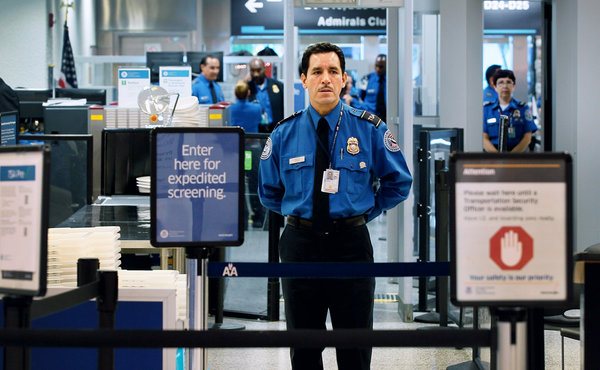 If you don't fly on a regular basis, you may be concerned about going through security. Be prepared for TSA requirements before heading off to the airport. You can avoid the added stress of holding up the line or having your personal items confiscated. If an item is prohibited, it will get tossed into the dumpster. Christmas gifts like perfume, bottles of wine, snow globes, toy swords and more have been removed by TSA.
If you are traveling with presents, do not wrap them. TSA may unwrap them for further inspection, including those in your checked bags. You can either put your presents in gift bags or ship them in advance to reduce the hassle of carrying them. Don't travel with any gifts that look like weapons. If traveling with sports equipment, it's best to check it, since many items are not allowed as carry-on.
Food items such as pies and cakes are allowed in your carry-on, but liquid items such as bottles of wine, sauces, gravies, dips, soups, etc. will have to be in your checked baggage. Be sure to secure any liquid items in an airtight plastic bag in case they leak.
If you travel on a regular basis, it's worth joining TSA Preè. The lines are shorter, and you will receive expedited screening (you won't have to remove your shoes, belt, light jacket, or your laptop and 3-1-1 liquid bag).  The cost to join is $85, and your approval is based on an in-person interview, background check, and fingerprinting at the center closest to your locale. Approval may be issued in 30 days, but due to possible delays, the TSA recommends applying 10 to 12 weeks in advance of travel. You can apply at TSA online.
For all other security lines, you will be required to remove your shoes, hat, belt, and jacket. Avoid wearing jewelry or metal items that may set off the alarm, and wear shoes that are easy to get on and off while standing up.
Be sure to adhere to TSA's 3-1-1 regulations on transporting liquids. All liquids and gels must be in a 3.4 oz. container and fit in a one-quart size bag. This bag will need to be removed from your carry-on at security.
Check your purse and pockets before going to the airport to make sure you have removed anything that could be subject to additional screenings or get confiscated. This includes scissors over 4″, pocketknives, lotions or hand soap over 3.4 oz., bottled water, and more. You can purchase your bottled water or coffee on the other side of the security checkpoint.
Have an Enjoyable Flight:
To reduce the noise and help you relax, plan on bringing some earplugs or headphones.  Most airlines charge for meals, so pack some healthy snacks. Check to see if your airline offers free non-alcoholic drinks. If not, plan on purchasing some bottled water after the security checkpoint to prevent dehydration during the flight.
Eating snacks and drinking liquids will help you maintain your energy. If your flight is delayed, having some food will be a welcome relief.
The holidays are a special time with friends and family. Here's wishing you a terrific Thanksgiving and a very Merry Christmas — and may you keep the joy of the holidays alive — even while traveling.
For more travel insight, check out my book,
Know Before You Go: Traveling the U.S. and Abroad
Save