Traveling for the holidays can bring on a mix of emotions — from excitement to dread. You're excited about seeing family and friends, but dreading the long lines at the airport, unexpected delays, and the possibility of inclement weather.
Here are some suggestions on how to take the stress out of holiday travel
Planning your Flights:
Nonstop flights are your best option. Connecting flights may be cheaper, but you increase the risk of weather-related delays and missing connecting flights. If you book a connecting flight, avoid tight connections, and if possible, choose an airport with warmer weather.
The peak days for travel at Thanksgiving are the Wednesday before and the Sunday after. For Christmas and the New Year, it is usually December 22 through the 24 and December 29 and January 2. Traveling on the holiday itself is the best day to travel, but for most of us, that defeats the purpose. If you can fly out earlier or stay later, that is optimum. You will reduce your costs and avoid long lines and delays.
Early morning or late night flights usually results in fewer people at the airport. Flight statistics show early morning flights have a better on-time performance.
Reserve your seats in advance, especially if traveling with friends or family.
Factor in the cost of checked baggage fees charged by most airlines.
Airport Delays and Security:
Plan for Delays:
Check on the status of your flight or any connecting flight before leaving for the airport. If the delay will affect your connection, you will have more time to re-book another flight.
Keep in mind that even if your departing flight is listed as delayed, it is recommended that you still arrive at the airport in advance of your original flight time. If the flight ends up departing on time, you would be considered a no-show if you were not at the departure gate for boarding.
Arrive at the airport earlier than normal to accommodate the long lines.
Check in early for your flight and print your boarding passes before going to the airport. This can be done 24 hours prior to your departure.
If you have a significant flight delay and are not a member of the airline's airport club, think about getting a 1-day airline pass (about $50). You can relax in the airport lounge and enjoy free snacks and Wi-Fi. Some airlines include free drinks as well.
Add the contact number of your hotel, car rental agency, and the airline to your cell phone. If your flight is canceled or delayed, call the airline directly to re-book a flight, rather than waiting in line at the airport.  Notify your hotel and car rental agency of your delay as well.
Make sure your cell phone and laptop are fully charged the night before your departure. Charging stations are available at most airports but may be unavailable during busy holiday travel.
Be sure to pack your medications and other necessary toiletries in your carry-on bag. If there is a flight delay, you want to have access to these items.
Security Checkpoints: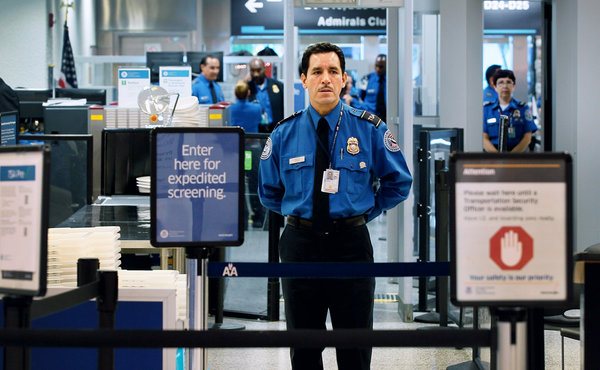 If you don't fly regularly, going through security can add to the stress. With some advance preparation, you can avoid holding up the line or having personal items that are considered prohibited tossed into the "dumpster".
Here are some basic TSA Tips:
You will be required to remove your shoes and belt. Avoid wearing jewelry or metal items that may set off the alarm.
Follow the 3-1-1 TSA regulations regarding liquids. All liquids and gels must be in a 3.4 oz. container and fit in a one-quart size bag. This will need to be removed from your carry-on bag, so pack it at the top for easy access.
Check your purse and pockets before going to the airport. Remove anything that could be subject to additional screenings or end up getting confiscated. This includes scissors over 4″, pocketknives, lotions or hand soap over 3.4 oz., bottled water, and more. Remove excess change in your pocket that may set off the alarm.
Many airports have a full-body scanner where you have to step inside and hold your hands in the air.
Purchase your bottled water or coffee after you get through security checkpoints.
Wear shoes that are easy to get on and off while standing up.
Do not wrap Christmas presents. TSA may unwrap them for further inspection, including those in checked bags. You can pack gifts in gift bags or ship them in advance to eliminate the hassle of carrying them.
Food items such as pies and cakes are allowed in your carry-on bag, but liquid items such as sauces, gravies, dips, soups, etc. will have to be packed in your checked bag.
TSA Preè
If you are a frequent traveler, consider joining TSA Preè for expedited screening. You will not have to remove your shoes, belt, light jacket, laptop, or the 3-1-1 liquid bag from your carry-on. The cost is $85 to join. Qualification requires a personal interview, background check, and fingerprinting at the closest center to where you live. Approval may be issued in 30 days, but due to possible delays, TSA recommends applying 10 to 12 weeks in advance of travel. You can apply at TSA online.
Have an Enjoyable Flight:
To reduce the noise and help you relax, plan on bringing some earplugs or headphones.  Most airlines charge for meals, so pack some healthy snacks. Find out if the airline offers free non-alcoholic drinks. If not, plan on purchasing some bottled water after the security checkpoint to prevent dehydration during the flight.
If traveling with children, pack movies, snacks, games, books, and toys so they can entertain themselves during long delays. A pillow and blanket may come in handy as well.
Eating snacks and drinking liquids will help maintain your energy. If your flight is delayed, having some food will be a welcome relief.
Airport/Flight Apps
There are several apps available that will keep you informed on the status of your flight, weather conditions, airport transportation, and more.
Download the airline's app to track your flight and receive updates.
MyRadar provides weather notifications and gate changes.
MyTSA provides information on TSA lines and which airports have TSA Precheck lanes and where they're located.
LoungeBuddy provides information on airport lounges. If you are not a member, you can pay for a day pass and choose a lounge.
NextFlight helps you find a new flight if yours is canceled or delayed.
Airport Sherpa allows you to order food or shop at the airport and have the items delivered to your gate within 20 minutes.
Travelocity will provide hotel and car rental deals in the area in case you get stuck overnight.
For more travel insight, check out my book,
Know Before You Go: Traveling the U.S. and Abroad
Save