Countries with active Zika Virus transmission (as shown on map)
Update on July 18, 2016
The Centers for Disease Control and Prevention has concluded that the Zika Virus is a cause of microcephaly and other brain defects in some babies born to infected mothers.  The Zika Virus is also linked to Guillain-Barré syndrome which can possibly affect the nervous system of people (men and women of all ages) who are bitten by an infected Aedes mosquito.
The CDC stated that pregnant women should not travel to countries that have an outbreak of Zika.
As of March 23, 2016
Because of the growing concern about the Zika virus and how it can possibly affect an unborn child of a pregnant woman, many airlines and cruise lines are offering free refunds, postponement options, or rebooking to other destinations to pregnant travelers (and their traveling companions)–and some are extending this offer to all concerned travelers.
If you are pregnant (or a concerned traveler) and have tickets to an area affected by the Zika virus, contact your airline to find out what options you may have.
The apprehension began when the Centers for Disease Control and Prevention (CDC) issued a Travel Advisory for pregnant women (or those trying to become pregnant) to Zika-impacted areas.  Currently, they include Central and South America (including Brazil where the summer Olympics are being held), Mexico, the Caribbean, Africa, Asia, the Oceania/Pacific Islands, and the list is growing.
 Why is the Zika Virus a Concern?
The Zika virus is spread primarily through mosquito bites.  There is evidence that it can spread from a pregnant woman to her unborn baby and possibly cause serious birth defects.  In 2015, Brazil had an outbreak of the Zika virus, and at the same time, had an increase in the number of babies born with microcephaly, a birth defect of the brain.  According to the CDC, there are still questions about whether the Zika virus is the direct cause, but there is growing evidence that it may be linked to birth defects (microcephaly, hearing and eye defects, and growth impairments).
Are there any Vaccines or Medicines to Prevent the Zika Virus–and What are the Symptoms?
There is no vaccine or medicine to prevent the Zika virus.  Common symptoms include fever, rash, conjunctivitis (redness of eyes), muscle pain, and headaches—lasting from several days to a week.
 Photo from Southwest Airlines
Airlines and Cruise Lines Offering Refunds or Changes for Free:
The following airlines and cruise lines made specific mention of the Zika virus on their website and the concern for pregnant women (as of March 23, 2016):
American Airlines states: "If you're pregnant and traveling to a destination in Latin America or the Caribbean that's affected by the Zika virus, you and your travel companions can request a refund. Just provide a doctor's note confirming your pregnancy when you request a refund."
Southwest Airlines states: (this is their standard policy for all travelers) "Zika Virus Travel Alert -As always, our Customers can change their travel itineraries without a change fee and our non-refundable fares can be applied toward future travel without penalty as long as your reservation is canceled 10 minutes prior to the scheduled departure of your flight."
Delta Airlines states: "Customers with current reservations who are concerned about traveling to destinations reported by the CDC to be affected by Zika Viral Illness should call 1-800-221-1212 (U.S.) or your local Reservations office and speak with a Delta Representative.  Customers may qualify for a change to alternate destinations, travel dates or a refund. Customers may make fee-waived changes to future reservations/tickets if tickets were issued on or before March 1, 2016. If you are a Delta Vacations customer please call 1-800-800-1504."
Spirit Airlines states: "Customers planning to travel to a country that has been impacted by the Zika virus may contact us with questions about changes to their itinerary.  For the latest updates, please visit the CDC Zika Virus travel information page."
United Airlines states: "Zika Virus Travel Advisory – If you have concerns about traveling to the listed destinations please call the phone number at the bottom of this page."
Virgin Airlines states: "The Centers for Disease Control and Prevention (CDC) has issued a list of affected countries that have reported transmission of the Zika virus infection. Mexico is the only destination that Virgin America serves that is included on the CDC's list. Guests who are pregnant and traveling to Cancun International Airport (CUN), Puerto Vallarta International Airport (PVR) or Los Cabos International Airport (SJD) can call our contact center at 877.359.8474 to receive a travel waiver."
South American Carriers include:
LAN & TAM Airlines states: "In regards to the Zika Virus, LAN Airlines and its affiliates, and TAM Airlines, both part of LATAM Airlines Group, are offering alternatives to pregnant passengers traveling internationally to the following destinations: Brazil, Colombia, El Salvador, Guatemala, French Guiana, Haiti, Honduras, Martinique, Mexico, Panama, Paraguay, Puerto Rico, Surinam, Venezuela, Barbados, Bolivia, Ecuador, Guadeloupe, Guyana, United States Virgin Islands, Dominican Republic, St. Martin and Easter Island.
Pregnant passengers who are traveling to the affected destinations above may select to return on an earlier flight without additional fees (subject to seat availability).
Pregnant passengers who have not yet begun their travel plans to these locations may choose to change their destination (subject to fare difference) or request a refund.
In order to be eligible for these options, the pregnant passenger must submit a medical statement from a doctor confirming the weeks of gestation. These options will also be extended to travel companions of the pregnant passenger who are booked on the same flight."
Photo from Norwegian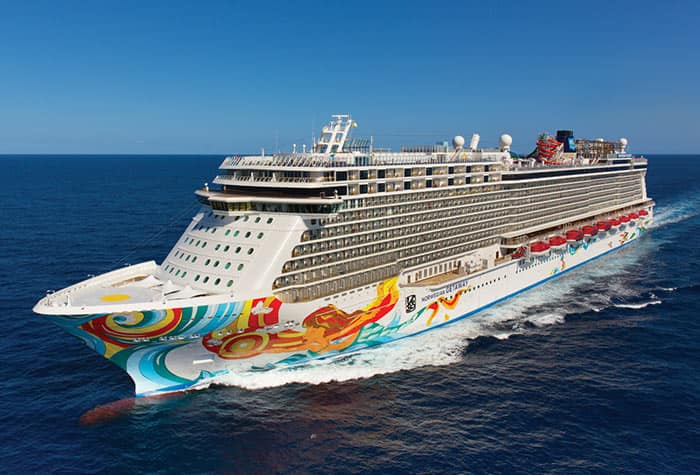 Norwegian Cruise Lines states: "At this time, the only passengers that are advised not to travel to affected areas are expectant mothers and we are making accommodations for those very few affected guests to reschedule their cruise for a future date or change their itinerary to non-affected destinations. For those guests who have opted to purchase a Travel Protection policy, cancellations are covered under the "Cancel for Any Reason" portion of the policy."
Princess Cruise Lines states: "We are providing booked guests with information on the Zika virus prior to their cruise. Pregnant women needing to cancel their cruise will be provided a future cruise credit (for them and their traveling companions) to rebook at a later time."
Royal Caribbean states:  "Royal Caribbean will assist any pregnant women who do not feel comfortable sailing to countries affected with the Zika virus by providing alternate itinerary options. This may include providing guests with a future cruise credit valid for two years so that they may re-schedule their voyage for a later date, with no penalty."

For insightful travel ideas, check out my book:

Know Before You Go:  Traveling the U.S. and Abroad